Making Rules
Atelier des Granges is craft work based and a french parquet manufacturer.
We control all making stages from the sawing of the blocks of wood.
Oak is the wood species we mainly use (the area we are settled in comprises very nice oak groves, among which the Forêt de Tronçais is the finest jewel).
The parquet panels (Versailles, Chantilly, D'Aremberg, etc...) are usually 30 mm thick (other thickness on request).
Those panels are made in a genuine traditional fashion, with mortise and tenons joints, as shown in the document below.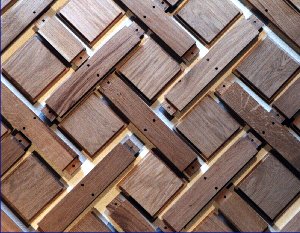 The Point de Hongrie panel to be nailed is 23 mm thick.
This panel can also be directly glued on its support. It is then manufactured in 14 mm thick.